A health data researcher says China's coronavirus numbers have been vastly under-reported, perhaps by a factor of 10.
At the moment, the country where the SARS-CoV-2 virus first emerged has reported a confirmed 82,809 cases of infection and 3333 deaths from COVID-19, the disease it causes.
But Giresh Kanji of the University of Auckland told The AM Show on Thursday the true figures are more likely to be 300,000 infections and between 30,000 and 60,000 deaths – estimates he calls conservative.
"I have checked my figures with professors at Auckland University, and the modeling, based on other nations with this virus – and they've confirmed the modeling."
The first case is believed to be a 55-year-old man in Hubei province who was seen by doctors on November 17. Over the next month, one or two cases were seen a day, until the infection rate picked up in late December.
The local cluster of seemingly incurable pneumonia cases was reported to Chinese health bosses on December 27, when there were about 180 confirmed cases, and the World Health Organization was informed on December 31.
Dr Kanji says the official figures carried by popular trackers such as those run by Johns Hopkins University and Worldometer use China's official figures, which only begin on January 22, when there were 555 confirmed cases.
He modelled the spread of the disease based on a patient zero on December 1 – two weeks after the first case was detected.
"In my modelling, the minimum number of cases in China has to be 300,000 people," with a minimum 30,000 dead, he said.
"Lockdown didn't occur in China until January 23, so it's been going on for a few months all on its own."
Disputed mortality rate
And the mortality rate – estimated somewhere between 1 and 5 percent by most health agencies to date – is likely a lot higher, Dr Kanji said – especially when compared with the flu.
"The death rates in Italy are 42 percent of closed cases. In Spain it's 25 percent of closed cases. The flu kills around half a percent of people. This is not your regular flu. It's way more infectious and it's way more virulent."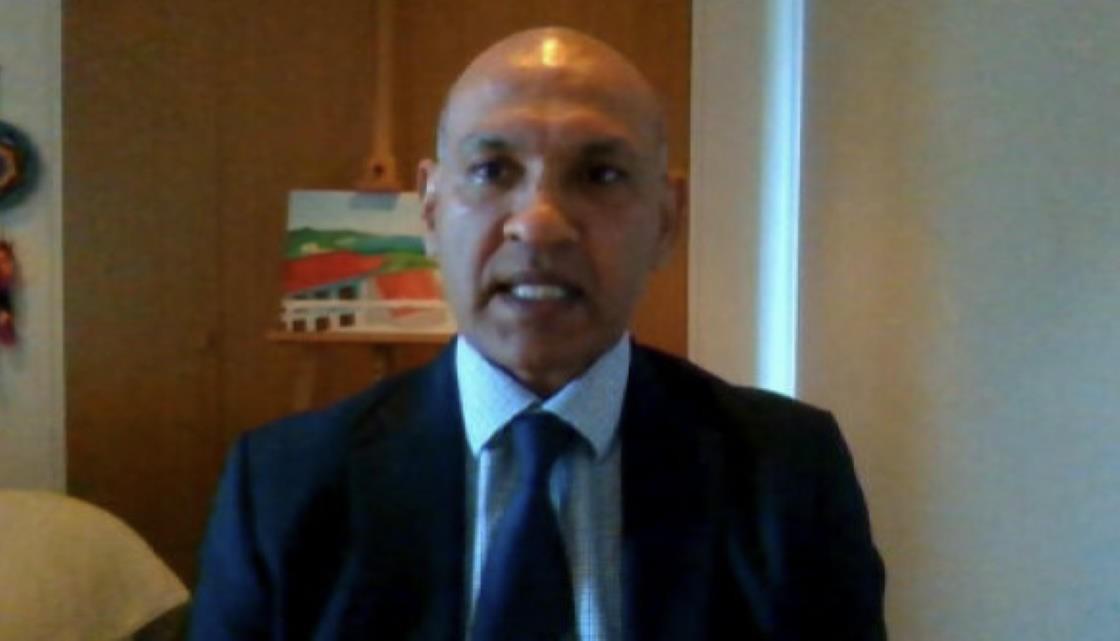 Dr Kanji worked his mortality rate out by dividing the number of deaths by the total dead and recovered – for example, in the US there have been 14,463 deaths and 22,187 recoveries, giving a mortality rate of about 40 percent.
But the actual mortality rate for COVID-19 remains unknown, as it's unclear how many people have actually been infected. Only cases confirmed with testing are being reported by national officials, but the virus is able to spread asymptomatically, and in many places people showing symptoms are struggling to get tests done. This would push the actual mortality rate downwards.
There have been reports of people in China forming massive queues for urns and huge demand for crematoriums, far in excess of the Chinese government's official COVID-19 death toll.
Underreporting led to underreaction
China's underreporting of the virus' spread is why many countries – particularly in the West – failed to take the actions necessary to stop it from spreading, Dr Kanji says.
"I believe one of the reasons why Thailand, Vietnam and other countries… have basically locked down their borders almost completely… their proximity has, I think, helped them know what's gone on in China, whereas the Western world have been distant and only really informed by information coming out of China. There has been something amiss."
Vietnam has only recorded 251 cases to date, and no deaths.
Dr Kanji said New Zealand, unlike most other Western nations, has done a good job of preventing the virus' spread – but the borders remain a problem, with no mandatory 14-day quarantine.
"We need to make sure people coming into New Zealand are not just allowed through, but have thorough tests, swabs, then possible sent to hotels or quarantine for two weeks before they can integrate. This may need to go on for several months.
"What's going to happen, is once COVID-19 dies off… we're going to have be the bubble. New Zealand will have to be its own bubble."
The Government is widely expected to announce a quarantine for new arrivals on Thursday. Epidemiologist Michael Baker of the University of Otago said that will be the most important step we make, if local transmission of the virus is wiped out by social distancing and isolation measures already in place.
"Of course we're never going to close the borders… it's just a matter of managing them effectively so that infected people who are detected at the border don't come into New Zealand," he told Newshub.
New Zealand has had 1210 confirmed infections, 282 recoveries and one death – a mortality rate of just 0.3 percent, going by Dr Kanji's method.
Source: NewsHub