Tuberculosis and a car-crash in childhood lead a New Zealand doctor on a journey to personal wellness through years of research into non-medical solutions to stress-related illnesses. Ruby Harfield talks to Dr Giresh Kanji about his new book, 'Brain Connections: How to Sleep Better, Worry Less and Feel Happier'.
Insomnia, anxiety and depression can plague people for years but Kanji has revealed how he treated his own debilitating illnesses and now hopes to help others.
Life stresses and childhood trauma can cause a build up of stress chemicals in the brain and a sensitivity which can lead to stress-related illnesses.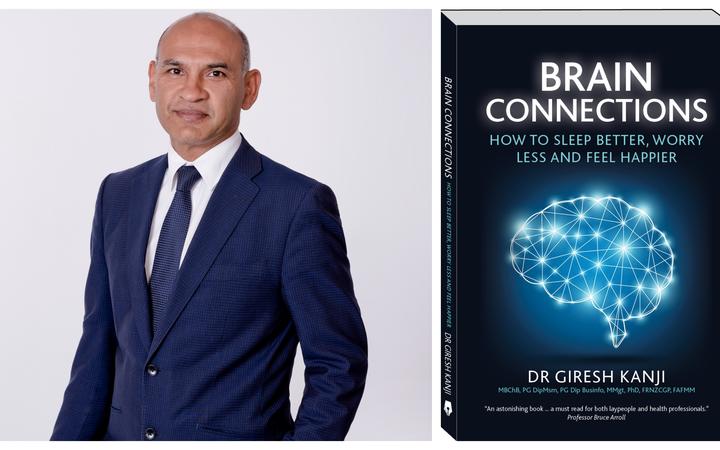 After spending nearly 20 years researching his own illnesses and their root causes he developed a theory which lead him to a healthier and happier life.
"Everyone deserves to live a life free of insomnia, anxiety and depression, but the truth is that these symptoms haunt many of us," Kanji said.
"We have no idea of why they occur and what habits will eliminate them, allowing us live a life full of energy and joy.
"Once symptoms develop they may continue for years and decades, and have a devastating effect on our wellbeing and ability to function at our best."
Prolonged stress results in the stress nervous system becoming more sensitive and winding up like a spring, he said.
Combined with a loss of our brain "off switch", this leads to a lifelong pattern of symptoms that include insomnia, anxiety and depression.
"The solution must target the cause – unwind the stress nervous system and restore the neurons in the brain that act as an off switch.
"The research shows exercise, sauna, meditation/breathing, yoga and Tai Chi performed a minimum of three to five times a week over three to four months will unwind the stress nervous system."
It needs to be done consistently for the stress nervous system to fully unwind, he said.
"People need to have understanding of the health problems so they can pursue habits for life that will help resolve their symptoms and prevent them from returning.
"As well as being able to help my patients, my journey has enabled me to break free of the shackles of my own post-traumatic stress disorder."
Kanji is an honorary senior lecturer at Auckland University, chairman of the New Zealand Pain Foundation and editor of the Australasian Musculoskeletal Medicine Journal.
He also runs pain clinics in Wellington and Auckland.
If you would like to go in the draw for a free copy of 'Brain Connections' by Dr Giresh Kanji please contact editor@healthcentral.nz to go in the draw.
Source: Personal trauma leads to breakthrough in stress-related illness relief